Studio Condo Unit at Amaia Steps Alabang For Sale at Almanza Uno, Las Piñas City
Alabang- Zapote Road, Almanza Uno, Las Piñas Almanza Uno, Las Piñas
Description
Master Plan & Concept
Amaia Steps Alabang Embrace a world that's safely tucked away from the busy city life giving you bigger spaces to breathe more, move more, live more. Amaia Steps Alabang offers the safety and security of a prime development, while giving you ample breathing spaces. Convenience and comfort now come in perfect harmony. Enter a community that captures the best of two cities. Experience cosmopolitan lifestyle and cozy living. Truly you can say that work and home need not to be worlds apart. That life can be lived with no trade-offs. No compromises. So enter, experience and embrace the best of both worlds only in Amaia Steps Alabang.
No. of Buildings: 9+
No. of Floors: 9 (8 residential and 1 parking)
Residential Units: 2nd to 9th floor
No. of Residential Units in Aria: 208
No. of Residential Units in Blanca: 176
No. of Residential Units in Clara: 176
No. of Residential Units in Delicia: 256
No. of Residential Units in Esperanza: 256
Unit Size Range: 24 – 49 sqm
Turn-over Date: Aria – 1H'18; Blanca – 2H'17; Clara – Construction completed; Delicia – 2H'20; Esperanza – 2H'21
Payment Terms Available
Cash
Total selling price payable within 30 days; with 10% discount for non-RFO or 5% discount for RFO projects.
Deferred Cash
Total selling price over maximum of 24 months.
Bank Financing
At least 10% down payment over 6 months – 90% balance thru bank financing. *Prevailing bank interest rates apply!
Location
Address: Alabang- Zapote Road, Almanza Uno, Las Pinas
Arrive at your destination in minutes because business parks, schools, shopping malls and service centers are just 2-5 kilometers away from the sweet spot.
Madrigal Business Park – 1 kilometer away
SM Southmall – 1 kilometer away
Details
Condominium Name
Amaia Steps Alabang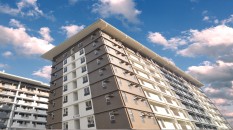 About the project
Amaia Steps Alabang: Live the Best of Both Worlds
Nestled in Alabang is Amaia Steps Alabang, a mid-rise condominium that offers comfort and convenience for individuals and families looking to live or work in the South of Metro Manila - particularly in Muntinlupa and Las Piñas.
About Amaia Steps Alabang
Amaia Steps in Alabang is a prime dev...
Similar Properties
Cityland One Premier 1 Bedroom Ready For Occupancy Condo in Las Pinas City
Alabang Premier Alabang Zapote Road Brgy. Almanza Uno Las Pinas Almanza Uno, Las Piñas
View Info
Brand New Studio Unit For Sale at Amaia Steps alabang Almanza Uno Las Piñas City
View Info
Amaia Steps Alabang Condo for Sale
Alabang-Zapote Road Almanza Uno, Las Piñas
View Info
View More Listing
FIND PROPERTIES IN OTHER LOCATIONS