Living in the Art Capital of the Philippines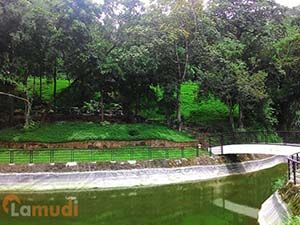 Angono, one of the first-class urban municipalities of Rizal province, has long been recognized as the "Art Capital of the Philippines." The hometown of national artists and historic relics, it is a storied place thanks to its colorful festivals, leisure hubs, historical sites, and impressive monuments.
Angono's claim to national fame does not end there, however. Conveniently located just 30 kilometers southeast of Metro Manila, the municipality continues to embark on a high rate of industrial and commercial growth, as shopping malls, banks, shops, trading centers, and financial institutions dot its commercial landscape.
More growth is seen on the horizon for Angono, as the proposed Angono Fish Port that will be constructed on the shores of Laguna de Bay is widely expected to provide more business opportunities in the area. It will also provide easier access to and from nearby towns that are also situated on the shores of the said lake. All of these developments spell a bright future for the region, so if you're looking to invest in a lot for sale in Angono, Rizal, now is the best time to do it.
Lots for Sale in Angono, Rizal
The area's rising economy, coupled with its location near the National Capital Region, means that a lot for sale in Angono, Rizal is a wise investment. Compared to lots for sale in nearby Metro Manila, prices of lots for sale in Angono, Rizal have remained affordable.
Among the best locations to find a prime residential and farm lot for sale in Angono, Rizal is Forest Farms Havila, in Barangay Mahabang Parang. The neighborhood has rich, fertile ground for growing crops and raising livestock while providing plenty of modern conveniences and amenities. A clubhouse, swimming pool, meditation garden, picnic area, lagoon, hiking trail, and clubhouse are among the features of this gated community. It is easy to commute to and from and is relatively near key establishments like Manila East Medical Center, SM City Taytay, Ynares Center, Shopwise, Unciano Medical Center, SM City Marikina, La Salle College Antipolo, Assumption Antipolo, Valley Golf and Country Club, The Medical City, and Thunderbird Resorts.
You can find an abundant mix of commercial, residential, and agricultural lots in the areas of San Isidro, Kalayaan, and Mahabang Parang. Depending on how big the lot is, you can expect to spend anything from Php 300,000 to Php 200,000,000.
For more affordable options, you should consider buying a foreclosed lot for sale in Angono, Rizal. These are offered by banks and lending institutions for below market value. When you take into account the fact that the area is poised for growth, you can expect a high return on your investment when you buy an affordable foreclosed lot for sale in Angono, Rizal which has the potential to appreciate in value over time.