Located in the southern part of Metro Manila, Parañaque City is bordered by the cities of Pasay and Taguig on the north, Las Pinas and Muntinlupa on the south, and Manila Bay on the west. From its humble origins as a municipality of Rizal province, and in 1975 becoming a part of the National Capital region, Parañaque is now classified as a first class highly urbanized city in Metro Manila, with a population of 665,822 people in the 2015 census.
The city's population growth rate has been estimated at 3.7%, a figure above the national average of 2.6%, with the city's expanse covering almost 47 sq kms-ranked as the 3rd largest in the National Capital region.
The city's strategic location has made it a major player in the country's commerce and industry. Even before the Spanish era, trading and fishing were the major industries. Parañaque later became known for its massive dry goods market of "ready-to-wear" (RTW) clothes, the fishing villages of La Huerta, and the Redemptorist Church (Baclaran Church) which is frequented by thousands of religious devotees. What followed in these recent years was the influx of business investments that transformed Parañaque into the vibrant city it is today.
In 2014, the city was awarded as the "Most Economically Dynamic City" by the National Competitiveness Council in partnership with the United States Agency for International Development, the Department of Trade and Industry, and the National Economic Development Authority. The most important contributory factor to Parañaque's economic soar has been attributed to the huge developments in the Entertainment City, an 8-kilometer, 100-hectare stretch of reclaimed land along Manila Bay.
Let this Paranaque City map be your guide on your next trip.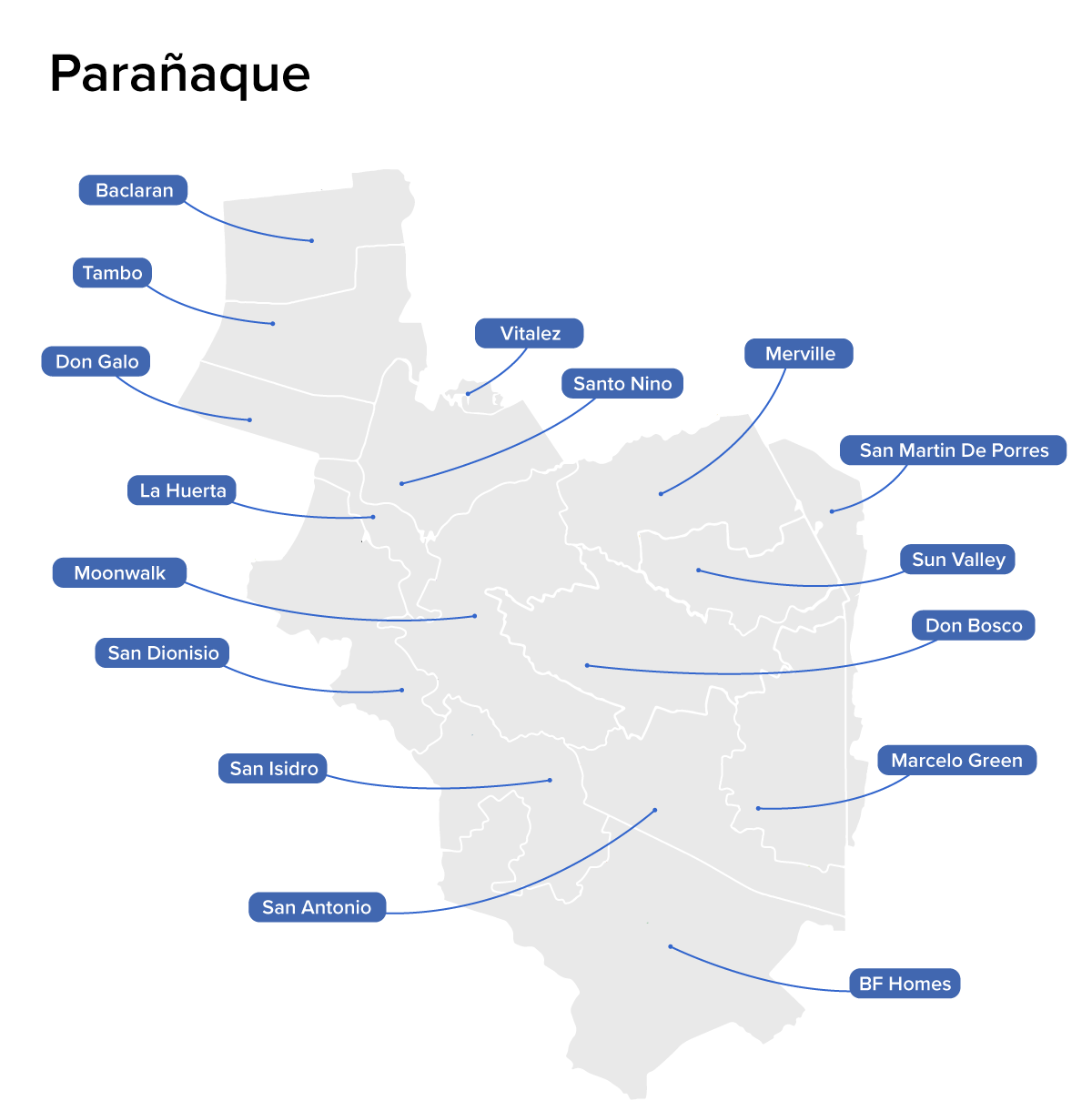 Economic Background
The influx of investments translates to creation of job opportunities. According to its Mayor Edwin Olivarez, Parañaque registered "a record number of investors and businesses, with the latest count already at over 20,000, which combined have an estimated annual gross sales of over P30 billion". Most of these investments are concentrated in the Entertainment City—casinos, luxury hotels, malls, and other leisure facilities.
Resorts and Casinos
Entertainment City, or the Bagong Nayong Pilipino Entertainment City is envisioned to be Asia's Vegas—a premiere destination for gaming and entertainment with world-class facilities. City Administrator Ding Soriano has underscored the importance of the licenses issued by PAGCOR to proponents of the industry. Soriano said that "the hotel and casinos will not only generate income for the city and tourism revenues, but will likewise generate jobs for city residents, as the law stipulates that they comprise at least 40 percent of the workforce of new establishments. Since the multi-billion hotels and world-class casino projects will employ around 250,000 people, that will mean at least 100,000 jobs for city residents."
To date, the Entertainment City boasts these major casino resorts:
1. Solaire Hotel and Casino- a $1.2-billion resort casino on 8.3 hectares of land owned by port magnate Enrique Razon of the Bloomberry Resorts Corporation
2. City of Dreams Manila- a $1.3-billion project on a 6 hectare land, owned by Melco Resorts and mall magnate Henry Sy; it houses three luxurious hotels--Nobu, Nuwa, and Hyatt comprising a total of 950 rooms.
3. Okada Manila- owned by Tiger Resorts Leisure and Entertainment, and has an indoor beach club and fountains added to its amenities.
A fourth player, to be called Resorts World Bayshore, is owned by Alliance Global Group of Andrew Tan and Genting Hongkong Ltd.
Soriano added that once full development is achieved, the Entertainment City alone will generate $10 billion in revenues from gaming, and approximately 400,000 direct and indirect jobs and will likewise boost tourism in the city. Owing to these mushrooming developments, Olivarez has rebranded Parañaque as the "Bay City".
Residential and Commercial Centers
Parañaque City is well-equipped with the convenience of malls—three SM branches, Virra Mall, and Waltermart. There are also several schools like the Olivarez College, branches of nearly all major banks, fast food chains, supermarkets and wet markets. Driving through its busy streets, one will notice the many residential villages such BF Homes and San Antonio Valley; and a lot of burgeoning residential developments such as condominiums that will pave way for jobs in the fields of real estate management and sales, construction, and maintenance.
Transportation
Ninoy Aquino International Airport and the Duty Free Shops are situated in Parañaque, and the projected increase in tourist arrivals attributed to Bay City will translate to additional jobs in the travel industry.
The first landport in the Philippines -the Parañaque Integrated Terminal Exchange (PITX) – is a 4.5-hectare terminal with commercial and office facilities, and envisioned to serve commuters to and from Manila and the provinces. This will be useful to people who have to commute to work in the Parañaque area.
BPO's/Service/Manufacturing Companies
While many of the highlights are recently on the developments in the Bay City, there are many other good companies to work for outside the resort or tourism sector.
In the southern part of Parañaque there are also industrial estates and well-known companies which constantly provide employment opportunities, such as Toyota Motor Philippines, Johnson and Johnson's, Motorola, Philacor (GE, White-Westinghouse), Columbia Motors (BMW, Hyundai, Kia), and Astra Pharmaceuticals.
Future projects and infrastructure
The wide extent of the Bay City does not seem to have reached the project's end. In 2018, Mayor Olivarez announced a fifth casino project-the $1.5 billion Nayon Landing, an integrated resort to be developed by Landing International Hong Kong, which is estimated to create an additional 10,000 jobs. Simultaneously being developed by Malaysian developer Genting is the Westside City Resorts, while more investments are expected to come in 2019 with a sisterhood agreement with the city of Haeundae in South Korea and the City of Carson in California, USA.
In addition to resorts and casinos, a number of famed property developers have sprouted to capitalize on the growth of the Bay City. Ayala Land Inc. is currently opening a 500,000 square meter facility which will house shopping centers and a complex hotel. Other developments include SMDC's Shore Residences, Aseana's Aseana City, Megaworld's Bayshore, among others.
Another project anticipated by investors worldwide is the he P100 billion reclamation project by SM Group which is "an integrated 600-hectare development that is envisioned to be complete with everything a city should have." The project which will primarily be a mix of residential and commercial components, is currently on its master-planning stage.
Megaworld is another bullish investor in the Bay City, with its recent increase of capital investments in Andrew Tan's 31-hectare Westside City Resorts World complex. The additional investment will be allocated for the building of more residential and hotel projects, which the company believes is in high demand because of more tourist arrivals.
Road infrastructures are also being put in place to support the Entertainment City. The NAIA Expressway Project, an elevated expressway that will connect the Entertainment City to NAIA terminals 1 and 2 with a projected travel time of only eight minutes. It will also be connected to two existing expressways, the Skyway 1 and the Cavite Expressway (CAVITEX).
The city government of Parañaque also lists in its city development plans the following project components which need to be prioritized to address the rapid commercialization of the Bay City development project: mixed-use development, green zone and seafront promenade, integrated movement networks, adequate waterways and efficient drainage system, Phase Development district urban design and efficient environmental management.
TRANSPORTATION HUBS
Just as there are several major roads found in Paranaque like the Elpidio Quirino Avenue, South Luzon Expressway, Manila-Cavite Expressway, NAIA Expressway, Aseana Avenue, Sucat Road, Dona Soledad Avenue, Multinational Avenue, Ninoy Aquino Avenue, Pacific Avenue, and Solaire Boulevard, there are also various modes for transportation when you are moving around, in, and out the municipality.
LRT Line 1 - Baclaran LRT Station
One way to reach Paranaque (at least its border) from Manila is via riding Manila Light Rail Transit System Line's (LRT 1) train. Baclaran station is found at the furthermost part of Taft Avenue in Pasay and near its border with Baclaran, Paranaque. Riding the LRT Line 1 train is one of the quick and direct routes when going to Monumento. This train line also connects to the two other train lines: LRT Line 2 via the Doroteo Jose station and MRT Line 3 via the EDSA station.
Future Plans for LRT-1:
A South Extension Project was proposed to serve the commuters coming to and from Paranaque and Cavite. This project aims to extend LRT-1's station along Quirino Avenue, the road that connects Paranaque to Bacoor, and down to Las Pinas-Bacoor with 8 more stations. The future Bacoor station is expected to also connect to Paranaque Integrated Terminal Exchanged (PITX).
Jeepneys, Vans, Buses, Taxis, and Transport Network Services
Near the station is the Baclaran Terminal which is also considered a major transportation hub in Paranaque. Find options for buses and jeepneys with routes going to Cavite and several Metro Manila destinations such as to Las Pinas, Paranaque, Muntinlupa, Manila, Pasay, Caloocan, and Quezon City. Taxis found here can also transport passengers directly to Ninoy Aquino International Airport (NAIA) which is only two kilometers away from this terminal.
Paranaque Integrated Terminal Exchange (PITX) is also a major transportation hub in the South. PITX is called as the first "land-port" in the Philippines. It is the country's first intermodal terminal to open and serve an estimate of 100,000 passengers per day. The grand terminal was built to help lessen the traffic congestion in Metro Manila and to provide commuters from South to the NCR and vice versa with easier and faster commuting experience. Inside PITX are terminals for jeepneys, buses, and UV Express vans. It also has spaces for taxis and transport network services.
Other notable terminals where UV Express vans and jeepneys are found are in SM Bicutan Terminal and Coastal Jeep Terminal.
GRAB also reach and serve the area of Paranaque. People can go directly to their destination on a private car via this app.
PNR - Bicutan Station
Another option to take when planning to go to Manila or even farther South is via another train. The Philippine National Railways Bicutan station is found at General Santos Avenue, Bicutan, Paranaque, near the border with Taguig. It has ordinary and air-conditioned train options traveling from Calamba, Laguna to Tutuban, Manila.
NAIA Airport
Paranaque City also houses the main and only international gateway for travelers to and from the Philippines found in Metro Manila - Ninoy Aquino International Airport.
What to do in Paranaque City?
Here are some items to add in your to-do list when you visit Parañaque City:
Visit Famous Historic Churches
Filipinos are generally known as religious people. One of the most popular devotions Filipinos have is the love for Our Mother of Perpetual Help. If you don't know yet, one of the finest icons of Our Mother of Perpetual Help is found in the Baclaran Church. The National Shrine of Our Mother of Perpetual Help or the Redemptorist Church (colloquially called the Baclaran Church) is located along Roxas Boulevard. If you can, do visit on a Wednesday which is the devotees' "Baclaran Day" to witness the great Filipino faith.
If you are doing a visita iglesia, add to your list the Cathedral Parish of Saint Andrew (commonly called as Saint Andrew's Parish or Paranaque Cathedral). Established in 1580, this church is one of the oldest in the Philippines. This baroque styled-church found in Quirino Avenue, La Huerta also serves as the seat of the Diocese of Paranaque.
Shop 'Til You Drop
Filipinos love to shop! If Manila has its Divisoria, Paranaque has its Baclaran. Popularly known as a haven for shoppers on a budget, Baclaran has a huge variety of options for retail and wholesale selling of various items - from clothes to home needs. This shopper's paradise, situated right next to the Baclaran Church, will provide you almost everything you need.
If shopping around an air-conditioned mall is what you opt for, Paranaque provides you with mall options too. Shop, hang, and dine at SM City Bicutan, SM City BF Paranaque, SM City Sucat, Jaka Plaza, Pergola Lifestyle Mall, Aseana Square Mall, Noah's Place Mall, and WalterMart Sucat.
Experience Art
For those wanting to witness something beautiful and different, check out Kulay-Diwa Gallery of Philippine Contemporary Art, a private-owned and easily accessible art space in Sucat, Paranaque. It serves as a venue and home for our up-and-coming and existing amazing local artists. Kulay Diwa Gallery aims to discover and promote Filipino artists through art exhibitions and outdoor programs.
If you can't decide between eating or visiting an art gallery, you can do both in BF Homes' Artists Haven Cafe. It is an art gallery with a small cafe on the side. All artworks displayed plus the cute artsy interior were by our local artists.
Watch a Good Fight
Paranaque is known for its grand sabong — a cockfight found in a coliseum, sometimes even sponsored by big brands. If you are just curious to witness or maybe plans to join one fight, visit them at Brgy. Tambo, Paranaque. They take each fight seriously.
Read and Play
Find novelty items, play card games, online games, and arcades, or read books at PlayBook along Escoda St. Paranaque. A popular hangout place for the gamers, book lovers, and adventure seekers, and a chill place to hang — PlayBook is one of the must-visit nooks in Paranaque.
Eat Your Heart Out
Filipinos love to eat. That's a no-brainer. Filipinos are always on the search for new food adventures to try. BF Homes Paranaque is well-known for its food hubs. But this is not the only food haven in Paranaque. Good restaurants with diverse offerings are found scattered around Paranaque.
Some notable places to try are Nel's Pastries and Specialties, Maty's Tapsilog and BBQ, Mang Raul's BBQ Haus, The Urban Farm, and of course, the famous Dampa along Ninoy Aquino Avenue.
Have a Quick Swim
Elorde Swimming Pool at Elorde Sports Complex is one place you can go for that quick, refreshing swim but if a beach is something you are looking for, Azure Condominium has a man-made beach. Book a room and experience the white sand while satisfying that beach craving, without leaving the city.
Have a Good Splendid Time
For an upgraded level of entertainment, gaming, dining, and leisure experience, Paranaque is also home to the best hotels, theaters, and casinos. Have an all-in-one fun at Solaire Resort & Casino and City of Dreams Manila. Catch local and foreign plays, go shopping, enjoy live music, play games, view amazing artworks and interiors, have a good swim, and book a luxurious room—experience all these in one amazing place.
Popular Neighborhoods
Parañaque has 16 barangays divided into two districts within its territory. They all have their good points though some are currently making more noise than the others.
Barangay Tambo
This barangay should definitely be on this list. It might even be on the top 5 list for top barangays in the entire Philippines, especially when it comes to entertainment.
Barangay Tambo houses the newest casinos in the country:
- Okada Manila
- City of Dreams Manila
- Solaire Resort & Casino
- Westside City Resorts World (opening in 2019)
These are the integrated resort developments found in Entertainment City. Together, they create a very attractive pull for gaming tourism to thrive. These businesses also generate jobs and have been helping raise the value of real estate in the area.
Its prime location boasts three main thoroughfares to the east. These are Quirino Avenue, Roxas Boulevard and Diosdado Macapagal Boulevard. To the west is Manila Bay. Those fortunate enough to be working or residing here can catch its famed sunsets.
The newly opened Parañaque Integrated Terminal Exchange (PITX) is also located here. It provides a means for bus commuters coming from the provinces to conveniently find in-city transportation. On the return trip, they just have to reverse the process.
There is still a lot of open space on the western portion of Barangay Tambo. This will surely be occupied however within the coming year as it continues to transform itself into the premiere district it was envisioned to be.
Barangay BF Homes
On April 30, 1978, President Marcos signed P.D. No. 1320 creating what is to become the largest barangay in Parañaque. It was composed of 16 residential subdivisions in an effort to promote socio-economic development in the Philippines.
Prior to this however, Banco Filipino owner Tomas Aguirre already initiated the development of the vast piece of land which was composed of three different municipalities. He started this in 1968, when the territory was considered to be part of Rizal province. Today, they have been absorbed by Metro Manila. These are the cities of Parañaque, Las Piñas and Muntinlupa.
Barangay BF Homes is also home to many of the city's most beloved restaurants. They cater to the appetites of not only its residents but its visitors as well. Many are known to venture from different parts of the metro just to sample its culinary delights.
It is along Aguirre Avenue in particular where these appetizing food places tend to set up shop. Mama Lou's Italian Kitchen, La Chinesca and Meat Depot are some of the most popular. Not to be left out are Uncle Moe's Shawarma Hub, Atoy's Porkchop and Ramen Kuroda.
There are definitely many more which were not mentioned but you might just have to visit BF Homes yourself to sample the treats awaiting you there.
Barangay Baclaran
Almost everyone is familiar with the existence of Baclaran. The origins of its name however might not be as common knowledge. It is derived from the word "baklad", which are fish traps in open water. These were commonly used by fishermen residing here due to the area's proximity to Manila Bay. Slowly, the community which took shape began calling the place Bakladan which would eventually evolve into Baclaran.
Of course a discussion of this beloved barangay will not be complete without bringing up the Baclaran Church or Redemptorist Church.
Its formal name is the National Shrine of Our Mother of Perpetual Help. This is where thousands of devotees pray the Novena to Our Mother of Perpetual Help every Wednesday. It is a time honored tradition which could have began in 1927. This was the year when a copy of the novena prayers was brought to Manila.
Surrounding this oft visited church with a beautiful Neo-Romanesque façade are roadside vendors. They tend to congregate together into small groups, creating an impromptu flea market whenever they do so. Their presence adds unto Baclaran's unique character.
For the uninitiated, Baclaran is a very busy place that is best appreciated for what it is.
Barangay San Isidro
This is perhaps the second most populated barangay in Parañaque after BF Homes. In 2016, the Philippine Statistics Authority had its residents at about 69,000 in number. This was not too far behind the 83,000 or so people residing in BF Homes, the city's largest barangay.
It was likewise created by virtue of a Presidential Decree. This time however, it was through P.D. No. 1321 signed on April 3, 1978 by President Marcos. It caused nine subdivisions to be partitioned from Barangay San Dionisio to form what is now Barangay San Isidro.
Main thoroughfare, Dr. A. Santos Avenue traverses the middle of its territory. This makes it easy for its residents to access their respective homes after a long day's work. Going through it is very quick, so you have to pay attention in case you are visiting a friend living in the area. You might miss the road you have to turn on.
The convenience it affords its residents however is one of its good points. Barangay Isidro is somewhat centrally located in Parañaque. This makes it easy to reach multiple points of the city faster.
PATTS College of Aeronautics is also located here.
Barangay Don Galo
There is a bit of history to be told about this barangay. During the Spanish colonial rule, this area formerly known as Sta. Monica was attacked by the pirates of Limahong. A man named Galo gathered the people together and repelled the raid. Galo was given the title of Don by the Spanish government for his bravery. Upon his death, the locality was later renamed Don Galo in his honor.
Much of the landmass constitutes reclaimed territory today. This is found at the southernmost portion of the Bay Area development. It results in the barangay being bordered by Manila Bay on two sides, west and south.
Barangay Don Galo has the third least residents at around 10,800 based from the 2016 census. Despite its low population, it contains the exclusive Marina Bay Town development within its territory.
This could very well become one the most enviable addresses in Metro Manila. It is just a few meters away from Entertainment City and but a short trip to NAIA. There are many more developments that are still to come in the booming Bay Area district. Barangay Don Galo will be witness to it all and will experience a surge in its property values along with it.