Bonifacio Global City: Hotspot for Premium Condos for Rent
One of the major Central Business Districts in the country today, Bonifacio Global City (BGC) is now a highly sought-after location for business, leisure, and living. Master-planned to be a thriving financial district and a viable alternative to its neighbor Makati, BGC has become the best answer to the growing population of other business centers.
For some analysts, the movement in the flagship district of Taguig has even surpassed the current achievements of Ayala Land. One notable event that signals this shift is the opening of the Philippine Stock Exchange at the BGC in 2016.
Acknowledging the continuous success of the city, many multinational and homegrown business giants are choosing to locate in Fort Bonifacio. Naturally, as businesses incessantly flourish, lifestyle and residential developments simultaneously follow suit. The former military camp now houses some of the most high-end residential addresses and is currently considered a go-to destination for leisure and entertainment.
Strategically located abound three major roads - EDSA, C5 Road, and the South Luzon Expressway - BGC has become an advantageous location for investors, employees, and residents.
Condo for Rent in BGC: Live at the Center of Everything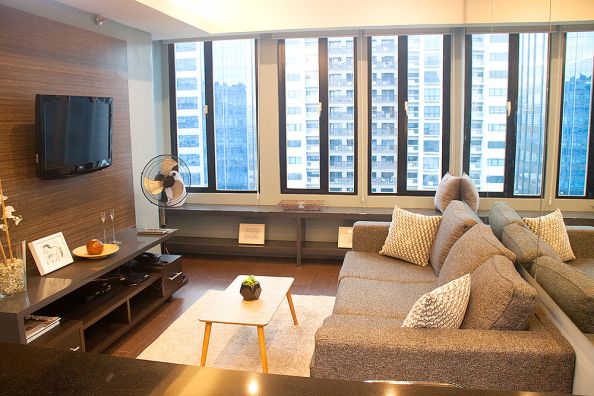 Near to almost everything, the walkable city of Fort Bonifacio welcomed the influx of residential condominiums. First-class hotels, a topnotch hospital, the country's largest companies, BPO locators, and public spaces such as malls, museums, and others all reinforce the idea that BGC is the perfect location for investing in a condominium.
On the other hand, lessor or temporary home-hunters who prefer the freedom in their location need not fret as various offerings of condos for rent in BGC are likewise available. For instance, young professionals who have estate houses owned by parents in other areas in the Metro or outside the National Capital Region can opt for a BGC condo for rent situated a few minutes away from his or her office. Renters will not just enjoy the advantage of easy travel to work, but also the myriad offerings within the vicinity of Fort Bonifacio.
Average Condo for Rent Prices in Bonifacio Global City
The price of a condo for rent in BGC varies; you can get a fully furnished one-bedroom flat in The Fort for just PHP 30,000 a month. Alternatively, if you are looking for that comfort and luxury that you truly deserve, you can opt to lease the best high-end units that Fort Bonifacio has to offer. Usually rented by expats and top executives, an elegantly furnished unit can cost up to PHP 175,000 in monthly rentals. Might sound a bit expensive to some, but the accompanying condominium amenities, the beautiful interiors of the unit, and the surrounding activities in BGC can attest that the price is well worth it.
Perks of Renting a Condo in BGC for Young Professionals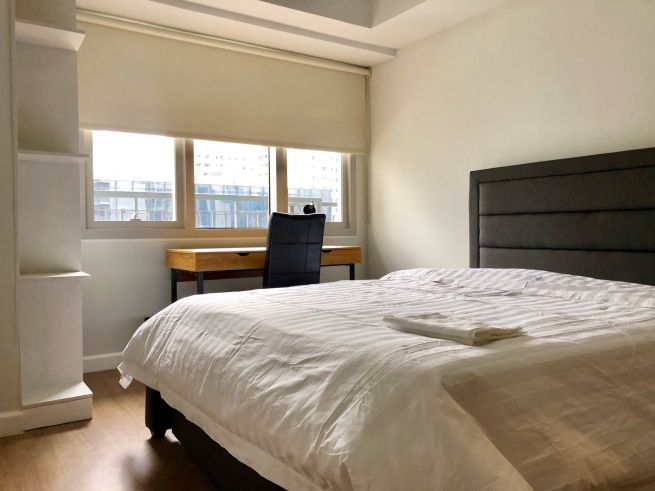 BGC as a burgeoning investment hub continues to attract seekers, especially young professionals, into investing in the wide array of condominium developments due to their convenience, closeness to prime establishments, leisure hubs, and dining places.
Here are some of the reasons many young professionals rent condominiums in BGC.
Experience Five Star-like Amenities
The prices of condominiums in BGC account for hotel-like suites and resort-like amenities that provide total comfort, relaxation, and safety to its owners or tenants.
It's perfect for young professionals who want to experience summer-like vacation feels without having to spend a lot of money or going to a faraway beach resort or hotel. They can use the swimming pools, spa facilities, jacuzzi, fitness gym, and lounges to relax and rest after a hectic day or week at work.
Living Close to Work
The primary reason professionals invest in a condo unit in BGC is to be mere minutes away from their workplaces. Living close to the workplace will spare one from the hassles of traffic and the costs of transportation.
Likewise, many of the condominiums in BGC neighbor restaurants, cafes, and bars that make the business district livelier and prettier at night. Young workers who need a drink or a place for dinner with friends can just walk to a wide array of restaurants and bars outlining BGC.
Lots of Open Spaces for Unwinding
BGC isn't only about tall buildings and busy establishments. The district is also home to many open spaces and pockets parks that are outlined with green lawns, various plants, and pruned trees.
These pocket parks are perfect for strolling, riding your bike, walking your dog, and savoring pieces of nature amidst a dynamic environment.
Getting the Most Out of Your Money
Living in BGC entails convenience, the leisure of time, and upscale living. Investing in a condo in BGC may be expensive, but it means you get the most of what you pay for due to the endless conveniences and services that await young professionals.
Renting a condo is also cost-efficient because one gets to experience high-class amenities along with fully-furnished units while being able to walk to one's workplace leisurely.