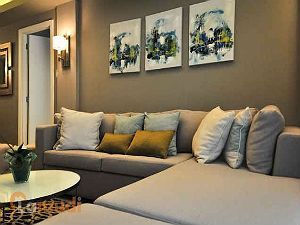 Apartment Hunting in a Popular Quezon City Area
Colloquially known as "Nova", Novaliches is the largest and northernmost district in Quezon City.  Perhaps, it may even be one of the most well-known. This residential area is home to hundreds and even thousands of subdivisions, villages, and gated communities to accommodate all its residents, which makes it almost like an independent city. In fact, a plebiscite was held in 1999 among the district's residents with an aim for the district (and the 15 barangays within its jurisdiction) to secede from Quezon City and become "Novaliches City." Although the planned secession was ultimately unsuccessful, it cannot be denied that this area has what it takes to stand on its own.
In 2016, data from Lamudi Philippines showed that Novaliches is one of the most searched locations when it comes to properties amongst the users of the real estate website. The most common property types searched for by online real estate hunters include houses for sale, houses for rent, apartments for sale, and apartments for rent.
Apartment for the Rent: Novaliches Developments
The once sleepy Novaliches, like the rest of Quezon City, is rapidly changing and developing. It is now home to large shopping malls (such as SM City Fairview, SM City Novaliches, Robinsons Novaliches, and Fairview Terraces), well-known colleges and universities (including the Far Eastern University's Nicanor Reyes Medical Foundation), and other leisure areas. Plenty of real estate developers are also building big-ticket developments in this part of Quezon City, many of which are potentially good places to find a Novaliches apartment for rent.
One of these developments is Amaia Land's Novaliches project, which comprises of low-rise apartments, single-detached houses, and shophouses. When completed, this project will offer a huge range of apartments for rent, ranging in size from 30 to 59 square meters.
Aside from projects built by big developers, the area also boasts of residential developments from smaller companies and even private builders. These properties include townhouse and apartment complexes that are aimed towards newlyweds and starting families, thanks to their relative affordability.
One such property is an apartment in Barangay San Bartolome, which is situated near SM City Novaliches. A unit in this development would have three bedrooms, two bathrooms, a garage for one car, and a balcony. It can be had for PHP 3.692 million but if rented, it would have a monthly rate of only PHP 15,000.
A similar development can also be found in West Fairview (technically still a part of Novaliches). The 10-unit apartment development dubbed as Carnation Townhomes is close to SM City Fairview, Robinsons Fairview, and Fairview Terraces, and the Nicanor Garcia Medical Center of the Far Eastern University. Each of these 150 square meter apartment units boasts of four bedrooms, four bathrooms and a garage for one car. It can be had for PHP 4.2 to 4.4 million, but if converted into an apartment for rent in Novaliches, this property can earn the owner a monthly rental rate of between PHP 15,000 to PHP 18,000.