Office for Rent in Quezon City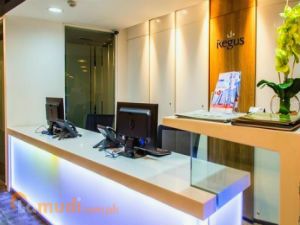 Quezon city, or QC for short, is one of the cities that makes up Metro Manila. With a population of approximately 2.7 million as of 2010, the city is the largest in the Philippines. It is home to some of the Metro area's most important business districts, and inside these districts are many areas to find an office for rent. Quezon city is considered a premier location to do business.
In the city, there are many large successful complexes, companies, and even foreign embassies, such as the Colombian Embassy on Aurora Boulevard. Many are found in the city's several vibrant and renowned commercial centers, such as the Araneta Center and Eastwood City. These two centers plus the large intercity road, Quezon Avenue, make up one of the most prosperous areas in the country.
The Center of It All
The Araneta Center in the important commercial neighborhood of Cubao includes several shopping malls, such as the Gateway Mall and the Ali Mall, named after Muhammad Ali. It also includes the Gateway Tower, which houses 80,000 square meters of office space.
Eastwood City, developed by Megaworld Corporation, is a commercial and residential complex situated in the Bagumbayan neighborhood of Quezon City. It is the location of the Eastwood Mall and the Eastwood City Cyberpark, which is a leading center for business process outsourcing (BPO) companies.
Quezon Avenue is a major road that leads from the heart of the city at the Quezon Memorial Circle down to España Boulevard in Sampaloc, Manila. There are many retail businesses along this lengthy street.
Live Where You Work
Being close to such acclaimed business centers makes these areas very popular when it comes to searching for an office space for rent. Quezon City and its value is not, however, limited to these commercial locations. There are other benefits to setting up businesses in the area that make a Quezon city office space for rent a prime choice.
Amongst other things, there are many fitness studios, entertainment centers, banks, and schools in the area. There are also many major landmarks, such as the Ninoy Aquino Parks and Wildlife Center, the Quezon Memorial Circle, the Quezon City Museum, and the Mount Carmel Shrine. With ample residential space in neighborhoods like Dillman and Novaliches, professionals can also live where they work. Quezon City has everything not only business, but also their residents need for a good work-life balance life.