The Best Real Estate Offers in a Posh Address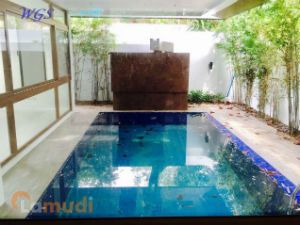 Ayala Heights is indisputably one of the most prestigious addresses in Quezon City and in the entire Philippines for many reasons. For a start, only the best of houses standing on the choicest of lots can be found here. An exclusive village that is conveniently near many of Metro Manila's leading commercial establishments, prestigious educational institutions, and top business hubs, its enviable location offers stunning views of the city while providing cool breezes from the south. Since its conception, Ayala Heights has come to symbolize security, prestige, and élan - a most concrete sign that someone has truly made it. Until the present, this grand vision of Ayala Heights continues to guide its expansion, accommodating the people who want nothing but the best as they themselves strive to be the best.
Looking for an Ayala Heights House for Sale
Here are some examples of house and lots for sale in Ayala Heights, so that you know what to expect from properties in this exclusive gated community:
Let us take a look at a brand-new house and lot in Alpha Village. With a lot area of 459 square meters and a floor area of 500 square meters, it has five bedrooms, eight bathrooms, a den, separate drivers and maids room, and a five-car garage. The property is located near Miriam College and the Ateneo de Manila University along Katipunan Avenue, and can be purchased for PHP 48 million.
Second, consider a modern house with a land size of 400 square meters. Ready for occupancy, it has five bedrooms with their own toilet and bath, a den, a maid's room with a toilet and bath, a swimming pool and a four-car garage. Built in 2016, this property is on offer for PHP 70 million.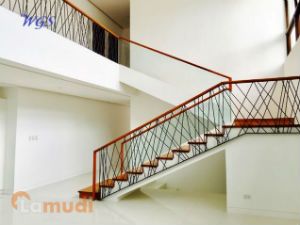 Up next is a house with a lot area of 650 square meters and a floor area of 700 square meters. It comes fully furnished with one master suite, three bedrooms en suite, one service quarters (three bedrooms, two toilet and bath, a service kitchen), a gym, a home office, a den, a four-car garage, and five-outdoor decks. The property is modern looking with clean lines creating a timeless feel and interiors that evoke a casual environment. The spaces were flexibly designed to adapt with the residents' changing needs as time passes by. This energy-efficient oasis enjoys proximity to major schools - the University of the Philippines Diliman, the Ateneo de Manila University, Miriam College, and Philippine Science High School - and can be owned for PHP 115 million.
Also consider a house with an area of 432 square meters and a lot area of more than 300 square meters in Vicente Lim Street. It comes with four bedrooms, a swimming pool, and separate rooms for the driver and maids. It is on the market for PHP 57 million. Last but not least, take a look at a house with a floor area of 900 square meters and a lot area of 530 square meters. It has four bedrooms, four bathrooms, and a four-car garage. Priced at PHP 70 million, it has a very good view of the Marikina Valley and the surrounding areas of the city.
Be part of a place of convenience and elegance. Belong in a community where the biggest dreams are born and realized. Invest in a house and lot for sale in Ayala Heights now.