Mandaluyong Beyond Ortigas Center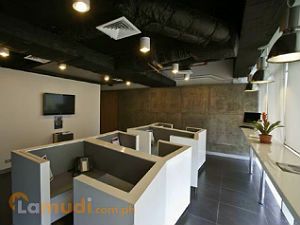 When one mentions Mandaluyong, a city with more than 380,000 residents and situated at the very center of Metro Manila, Ortigas Center immediately comes to mind. Being one of the three cities in Metro Manila (the two others are Pasig and Quezon City) sharing jurisdiction over Ortigas Center, Mandaluyong has become synonymous with the business district. Three of Ortigas Center's big shopping malls are in Mandaluyong (SM Megamall, The Podium, and Shangri-La Plaza), as well as the headquarters of important companies and agencies, including the Asian Development Bank and San Miguel Corporation.
However, there is so much more to the city than Ortigas Center, especially when it comes to commercial real estate. Although much of available office spaces for rent in Mandaluyong can be found in the Ortigas Center area of the city, including those buildings found along ADB and San Miguel Avenues, St. Francis Street, and Bank Drive, the city has other areas that offer not just offices for rent but also other types of commercial spaces for lease.
Commercial Space for Rent: Mandaluyong Is Affordable
One area where a commercial space for rent in Mandaluyong can be found is along Shaw Boulevard. This thoroughfare, which leads to the Santa Mesa District of Manila to the west, has a number of high-rise office towers, many of which offer spaces for rent that are much more affordable than those found in Ortigas Center.
One such property is a 176 square meter office space located in a PEZA-accredited commercial building. This office is ready for occupancy and is already fitted with air-conditioned units and 30 cubicles. The building itself has six elevators, a 100% backup generator, is fiber-optic ready, and has parking spaces enough for 500 cars. This property has a monthly rental rate of PHP 70,284 (or approximately PHP 399 per square meter per month).
If a bare office space is preferred, then this 156 square meter space for rent also in Shaw Boulevard is the perfect candidate. This unfurnished property can be designed to fit any business type (call center, traditional corporate occupier, or even a coworking space), while its monthly asking rent of PHP 54,600 already comes with parking slots for two cars.
Another area in the city where office spaces can be found is along Pioneer Street. This is already home to several high-rise BPO towers and condominiums; however, some of

its buildings still offer office spaces intended for traditional corporate occupiers. One of which is the Globe Telecom Plaza at the corner of Pioneer and Madison Street. This property, which measures 206 square meters, is semi-furnished and comes with parking slot. Its monthly rental rate is PHP 130,000.
Other Commercial Spaces in Mandaluyong
Aside from offices, Mandaluyong areas outside Ortigas Center also offer other commercial property types for rent, including warehouses. One such property is a 5,000 square meter warehouse situated in Barangay Namayan, which sits along the Pasig River just across the Santa Ana District of Manila. This warehouse built in 1990 comes with loading dock and is suitable for a car repair shop or storage facility, and has a monthly rental rate of PHP 650,000.
Indeed, when looking for a commercial space for rent in Mandaluyong, do not forget to look beyond Ortigas Center. The city has plenty of other areas that offer commercial spaces and warehouses that would fit virtually any type of business.