From Industrial Site to a Prime Real Estate Area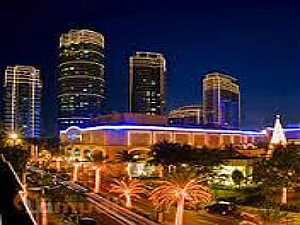 Perhaps very few people know that Rockwell Center, the flagship development of Lopez-owned Rockwell Land Corporation, was a former thermal power plant operated by MERALCO.
This 15.5-hectare low-density development, located in Barangay Poblacion, Makati, just along the southern banks of the Pasig River, has been transformed into an area teeming with high-end condos, upscale mall, and glass-walled skyscrapers. It has also been one of the most popular areas in Metro Manila for apartments since it was opened.
At present, plenty of expatriates, upper-middle-class families, and millennials call Rockwell Center their home, as the place offers them plenty of options when it comes to apartments for rent.
My Options for a Rockwell Apartment for Rent
Contrary to common belief, Rockwell Center is not only about spacious apartments and penthouses with rental rates that normally go over thousands of pesos per month. In fact, the location boasts of a number of developments intended for singletons, millennials, and newly-wed couples as their apartment units are modest-sized and their rents affordable.
One such development is One Rockwell. Situated at the corner of Rockwell Drive and Estrella Street, this two-tower apartment (East and West) is the first development in Metro Manila that offers the Z-loft-style (basically a two-level apartment that has windows on both sides of the building). But what makes it popular is that it offers medium-

sized apartments, making them more affordable. Examples of an apartment for rent in One Rockwell West is a one-bedroom unit with a monthly rental rate of PHP 50,000, which is quite a steal, as the property comes fully furnished and with one parking slot. Another affordable apartment for rent in One Rockwell East is a fully furnished 27 square meter unit with a monthly rental rate of PHP 30,000.
The Manansala is another development that offers affordable apartments for rent in Rockwell Center. One example is a 58 square meter, fully furnished, and interior-designed unit with a monthly rental rate of PHP 55,000. This property also comes with a one-car garage in its basement parking, which is directly connected to the Power Plant Mall.
Last is Joya Lofts and Towers, which is a two-tower development that offers studio, one-bedroom, two-bedroom, and three-bedroom apartments. Its studio and one-bedroom units are quite popular due to their relative affordability - an example of which is a 73 square meter apartment in the development's North Tower. This fully furnished apartment comes with one parking slot, while amenities to enjoy include a retail and restaurant strip at the condo's podium area, walking distance to the Power Plant Mall, and direct access to the soon-to-open Proscenium across Estrella Street.