The Perks of Living in Magallanes Village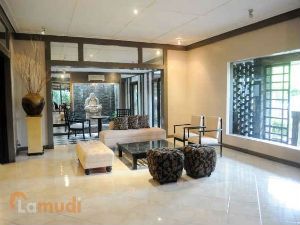 Magallanes Village, as one of the wealthiest subdivisions in Makati City, is at its geographical advantage because it is located at the intersection of Epifanio De los Santos Avenue (EDSA) and the South Luzon Expressway (SLEX). It even has its own MRT station, which gives easy access to commuters coming from various areas of Metro Manila.
Being primarily residential, half of Magallanes Village's residents are expatriates enjoying the high-end living in gated communities or subdivisions. Having the business districts in nearby areas such as the Makati CBD, Bonifacio Global Center, and Ortigas CBD, it is no doubt that living here is synonymous to your business and professional career being at its peak.
Living in Magallanes Village also means a huge chance of engaging in a healthy lifestyle because of the presence of interconnected streets, making it a walkable neighborhood. You will surely be engrossed in taking your morning jogs and daily exercises because of the many beautifully-crafted green spaces and safe sidewalks. The presence of facilities offering an active lifestyle, such as sports will definitely give you a healthy body and mind.
Artistry is highly celebrated across the city with the presence of the many museums you can visit. Two of these are world-class museums that will put you in a trance with its classical and highly-political art pieces. Magallanes Village is close to the Ayala Museum and the Yuchengco Museum where paintings, sculptures, and artifacts from renowned and amateur artists are on exhibit.
The exclusive gated subdivision is also close to a wide selection of restaurants with international flavors that will satisfy your every craving. Dine in with your friends and family in Seryna Japanese Restaurant, Sala Bistro, Hummus Elijah, and Circles Event Café. Treat yourself to a relaxing shopping experience with the trendy boutiques and global brands of Greenbelt, Century City Mall, Circuit Mall, and Glorietta. Living in Magallanes Village provides everything that you will ever need from top-tier hospitals, schools, hotels, event centers, and so much more. Living in this part of Metro Manila has never been more satisfying.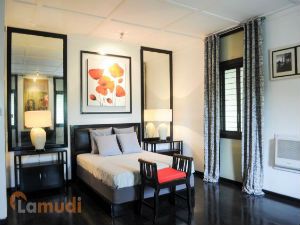 A House for Rent in Magallanes Village
Moving into a new place is exciting, knowing that your life will change for the better, so find a house for rent in Magallanes Village and begin the city living of your dreams.
There are a lot of options to choose from depending on the lot area, number of bedrooms, amenities, and location according to your preferences. One remarkable listing you can choose to rent to is a new two-storey house with four large bedrooms and imported modern chandeliers. This house is available for PHP 190,000 per month. Another option would be a fully-furnished four bedroom Asian-inspired home with three full bathrooms, a powder room, and landscaped gardens. This one is available for PHP 160,000 per month.  
Note that a usual house for rent in Magallanes Village starts at PHP 70,000 per month. Although a bit pricier than other gated neighborhoods in the capital, its prime location, as well as the prestige the address connotes, makes it well worth it.