The Mere Name of Forbes Park Speaks For Itself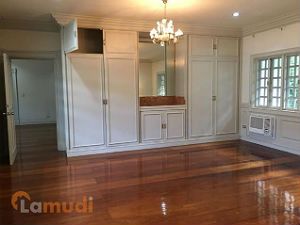 Makati is the economic nerve center of the Philippines. It hosts the most number of multinational and local corporations, and small- and medium-scale enterprises than any other place in the country. It is also a well-known entertainment and leisure hub, and shopping center in Metro Manila, drawing both locals and foreigners alike.
Forbes Park in Makati is the home to some of the wealthiest Filipinos, as well as some Philippine-based foreign dignitaries. Named after colonial-era American Governor General William Cameron Forbes, it was the first gated community to be developed by the Ayala Corporation, dating back to the 1940s.
The village is located right in the heart of Makati. It is bound by Epifanio de los Santos Avenue (EDSA), Metro Manila's main arterial road, on its northern boundaries. East of the village lies Bonifacio Global City, the bustling new central business district (CBD) in Taguig. McKinley Road passes through the village, dividing it into two sections, Forbes Park North and Forbes Park South.
Residents of Forbes Park enjoy the convenience of having the Makati central business district located across EDSA, enabling them to take an easy stroll down the Glorietta and Greenbelt malls and enjoy shopping at fine stores that are located inside those malls. San Antonio Plaza, an arcade that was built just outside the village's main Roman Catholic parish church, the Santuario de San Antonio, also has many commercial establishments.
Being the foremost exclusive village in the country, Forbes Park is one of the few places where security is of the utmost to keep its residents safe 24/7 for their peace of mind. On top of that, the exclusive village offers the convenience to be right in the middle two of the most progressive business districts: the Makati CBD and Bonifacio Global City.
House for Rent in Forbes Park
Take look at the many houses for rent in Forbes Park. Surely one of them will suit your taste as well as desires.
For those with the need for an elegant design, a 1,200 square meter house and lot is available for rent with a swimming pool, a garden and a den for PHP 350,000 a month. This is actually considered affordable given its exclusive location.
If something modern in design is more your cup of tea, then a three-bedroom modern house complete with a lanai, a swimming pool, and a den should satisfy you for PHP 400,000 a month.
If space really matters, then a five-bedroom house complete with amenities from a garden full of flowers and trees to a nicely designed swimming pool can be rented for PHP 1 million a month. It even comes with a garage big enough for up to a dozen vehicles. In addition, it is located in a prime spot of the village.
As you can already tell, prices for a Forbes Park house for rent is at a premium, but houses usually come with a swimming pool, a garden, and huge garages making the price well worth it. They come either bare, semi furnished, and fully furnished giving you the option to design your future home the way you want to or to move in with as much ease and convenience as possible. Especially if you are a foreign diplomat who will be staying in the Philippines for a long time, you deserve nothing less than the best and houses in Forbes Park have it all. Beginning with a top security to keep you and your family safe 24/7 to the convenience of being at the business center of the Philippines that provides easy access to all means of transportation for urgent meetings with high ranking officials, renting a house in Forbes Park is simply the best choice.