The Philippines' Most Prestigious Address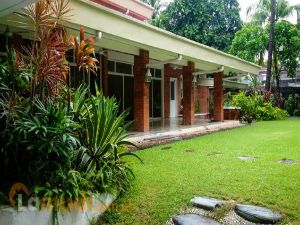 Occupying 187.21 hectares and one of Makati's (and indeed the Philippines') most exclusive subdivisions, the sprawling houses and bungalows along the tree-lined streets of Dasmariñas Village are homes to diplomats, businessmen, and some of the country's most high-profile families.
Developed in the 1960s by Ayala y Companía, the forerunner of today's Ayala Corp., Dasmariñas Village, or sometimes referred to simply as "Dasma" was originally conceived to be part of the equally exclusive Forbes Park from which it was separated from in 1971. The village is now also coterminous with Barangay Dasmariñas, which according to the 2010 Census has a population of more than 5,500 inhabitants.
Living in an Executive Neighborhood
A Dasmarinas Village house for rent or for sale gives residents a much-welcome respite from the hustle and bustle of Makati, the Philippines' business and financial capital, without having to travel too far. Indeed, the village is situated just across Epifanio de los Santos Avenue (EDSA) from the Makati central business district (CBD), while a few minutes' drive east through McKinley Road is Bonifacio Global City (BGC), the country's second most important CBD.
The village's streets are lined with old acacia and tamarind trees, while its parks and greeneries are impeccably maintained. Just outside the village gate is Sanctuario de San Antonio, a church plaza surrounded by commercial and retail establishments, while along Palm Avenue is Colegio de San Agustin, a private co-ed Catholic school founded by the Order of Saint Augustine in 1969.
Opting for a House for Rent in Dasma
As expected, a house for rent in Dasmarinas Village falls under the pricier side. Data shows that a house for rent in the village may command a monthly rate of between PHP 250,000 and PHP 700,000. Although quite expensive, these houses are known not to scrimp on amenities: most have their own swimming pools, have sprawling and well-manicured gardens, have a minimum of four bedrooms, and have top notch fixtures and finishes. Not to mention that being a resident of the village affords one easy access to Makati CBD and BGC, and car stickers will grant them access to the neighboring villages of Forbes Park, Urdaneta Village, and Bel-Air Village.
Being one of the most prestigious addresses in the country, it is not surprising that diplomats and expat employees of multinational corporations choose a house for rent in Dasmarinas Village, Makati as their home in the Philippines. Many local property investors own houses in the village not for their own use, but to be used as investment properties for rental income.
Being in one of Makati's most prime locations, the value of properties in Dasmariñas Village is expected to increase over time.