A Home in One of Makati's Most Exclusive Addresses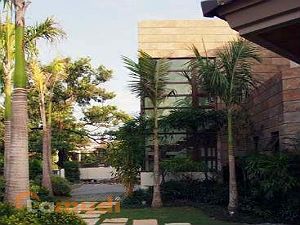 When one mentions a house and lot in Makati, what immediately come to mind are the exclusive subdivisions and gated villages that surround the central business district (CBD). One of which is Bel-Air Village, which is situated on the northern portion of Makati close to Pasig River. The village is also under the jurisdiction of Barangay Bel-Air, which also holds jurisdiction over Salcedo Village and the Ayala Triangle in the Makati CBD.
For many years Bel-Air Village has been one of the most preferred addresses in Makati City. Although properties in Bel-Air are not as expensive as those found in Forbes Park, Dasmariñas Village, or Urdaneta Village, it is nonetheless still exclusive and offers most if not all of the amenities found in the other subdivisions. In addition, Bel-Air sits beside Rockwell Center, Century City, and the Makati Avenue area, which provides ample convenience to the its residents. If one needs to shop, one only needs to drive a short distance (or even walk) to the Power Plant Mall in Rockwell Center or Century Mall in Century City, both of which offer high-end shops, boutiques, restaurants, and supermarkets. If one is after entertainment, then both malls also have upscale cinemas in addition to the ones found in Glorietta and Greenbelt Malls in Ayala Center, both of which are mere minutes away from the gated community.
However, being in the middle of Makati does not mean that Bel-Air is all about the hustle and the bustle. The village's 32 tree-lined streets are a welcome respite to its residents in addition to two well-developed public parks and covered basketball and badminton courts. For spiritual rejuvenation, Saint Andrew the Apostle Parish is located along N. Garcia Street just outside the village gate close to Kalayaan Avenue.
Living in Bel Air Makati: House and Lot for Sale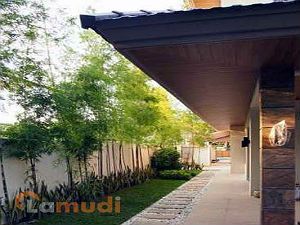 Bel-Air Village has certainly come a long way since its early days as a gated community intended for pilots. From charging between PHP 15 to PHP 30 per square meter in the late 1950s, Bel-Air Village is now a community of hundred-million-peso homes, proving indeed that landed properties in prime areas are smart investments that increase in value over time.
One such property available for sale is a four-bedroom five-bathroom house built in 2005. Sitting on a lot measuring 664 square meters, this property, which also boasts of an eight-car garage, is listed for PHP 250 million. At the other end of the price spectrum is a newly built five-bedroom five-bathroom house sitting on a 503 square meter lot, which is listed for PHP 75 million. Then, a somewhat "mid-end" house and lot for sale in Bel-Air, Makati is a PHP 130 million five-bedroom house that boasts of a swimming pool. This brand-new duplex property sits on a 667 square meter lot.
Being one of the most highly sought-after locations in Makati (and in the entire Metro Manila), a house for sale in Bel Air, Makati is one of those properties whose value is only expected to increase over time, making a property purchase in this village one of the smartest financial decisions a savvy investor would ever make.