Apartment for Rent in Makati 3k
Makati is a business district and the financial center of Makati hence the cost of living can be slightly pricey versus other cities in Metro Manila. People who come here are seeking greener pastures but at the same time would need affordable living quarters.
The apartments range from semi-furnished to fully furnished which include the basic amenities such as electricity, water, and wifi. The fully furnished rooms come with extra amenities such as kitchen, air conditioning, dining area, gym, and laundry area.
These apartments are near transportation hubs for jeeps and MRT so malls like SM Makati, Landmark, and Greenbelt are just one ride away. They are also near companies like Rockwell, Ayala, and RCBC.
Renters interested in the banking field can consider work opportunities in Makati since well-known banks line the streets of the city. This is also where the BPO industry boomed so people interested in doing night shift work can consider this. Makati also has various companies ready to hire individuals interested in doing collared jobs.
Affordable Apartment for Rent in Makati for 3K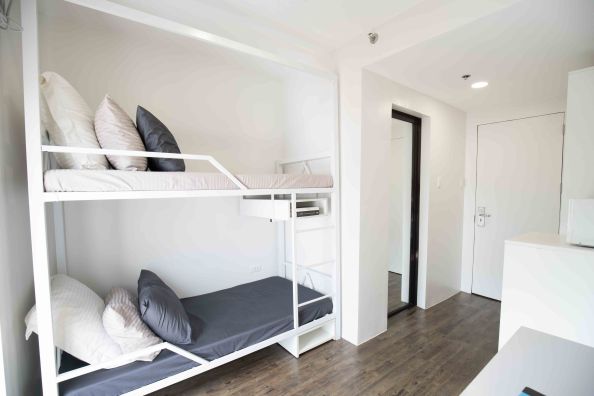 One of the seventeen commercialized centers of Metro Manila is Makati, a city notable for being the concrete-jungle of the Philippines with its massive buildings that can tower to 259m in height. It is a major entertainment center and known to be one of the most populated cities in Metro Manila. Because of Makati's multicultural lifestyle, it became the choice of living for most of the expatriate community. It is in this city where people may find the most well-known shopping centers such as Rockwell, Greenbelt, Ayala Center, and Glorietta as well as economic centers like the Makati Business Club and Philippine Stock Exchange earning Makati the nickname as the financial centre of the Philippines.
Makati offers a wild array of activities for those who plan on visiting the city. Individuals may fancy having night-outs with friends as the city comes to life at night. Its doors are also open to various job opportunities for those seeking greener pastures. Surprisingly, with the esteemed reputation that Makati holds, it also offers affordable apartments for rent for as low as 3K.
The prices of the apartments for rent in Makati are relatively affordable with options that can cost around Php 2,500 up to Php 3,000 per head. Some affordable apartments may even total to Php 3,000 a room which would be beneficial for those who plan on renting as a group to cut costs. The prices would of course vary depending on the inclusions of the apartment.
What would a renter expect when renting a 3K Apartment?
The apartments for rent vary from semi-furnished to fully-furnished with double-decked bed spaces to accommodate more renters. Most of them come with the essentials such as water, electricity, and Wi-Fi while others include air conditioning and a cooking area. Other amenities included in the fully-furnished apartments are a laundry room, lockers, gym, a common area, and a dining room.
Why should a renter consider renting an apartment in Makati?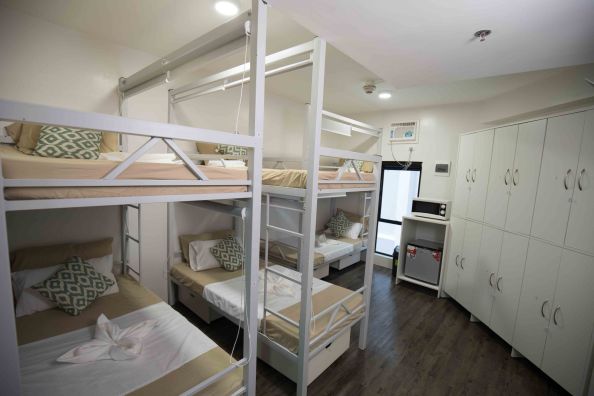 The commercial areas of Makati are just one ride away from these apartments which is perfect for those who are seeking for work opportunities within this city. Renters may opt to travel by MRT or jeep which are relatively near the area. They are conveniently accessible to food establishments, markets, and malls such as SM Makati, Landmark, and Greenbelt, it is good for those who would like to go shopping or take a stroll in their spare time. BGC or Bonifacio Global City is also accessible to these apartments since Makati is bordered by Taguig city, another esteemed area in Metro Manila.
Work Opportunities in Makati
One will never find themselves lacking in work opportunities within the concrete-jungle of the Philippines. Well-known banks such as BDO, Metrobank, and BPI flock the streets of Makati so renters interested in getting into the banking field may opt to work here. It is also in this city where the BPO industry flourished which is good for those who are looking for nighttime shifts. Anyone interested in getting into the food industry may want to visit Makati Avenue as it is filled with food establishments that light up the night. Makati is also home to reputable companies such as Ayala and Rockwell, perfect for individuals looking for collared jobs.