House and Lot for Rent: Your Path To More Comfortable Living in the Metro
For more than a decade, the Philippine economy has been on the rise, and this trend is projected to continue. Due to the rising value of real estate properties in the Philippines, it has become more practical for some to rent a house.
Vacant lots are also becoming increasingly scarce, particularly in urban areas such as Metro Manila. As a result of this trend, house and lot values are rising. While price rises are disadvantages, property hunters may consider renting a house and lot as an option. Future renters will enjoy the benefits of living in a home without making a financial or other commitment.
The Philippines' strong rental demand is driven by housing availability, affordability, and housing. Despite the fact that many housing developments are launched each year, there is still a backlog of approximately 58,000 units.
Nearby Establishments
Economic growth, flexible credit costs, and cost-effective rates have bolstered the market for houses and lots for rent in the Philippines. Makati remains a top destination in Metro Manila, offering rentals in executive villages such as:
Average Rental Prices in the Philippines
Several private villages in Metro Manila offer houses and lots for rent. Interested property seekers may choose from townhouses, single-detached family homes, and luxurious villas. Staff houses are also available for employees who want more cost-effective but safe and comfortable homes close to their workplaces.
To rent a house, you would need at least Php Php 6,500up to Php 400,000 monthly. Rental rates depend on the type of house, location, floor and land areas, and accompanying amenities. And because most of these houses and lots for rent are in premier locations, potential enters may expect amenities such as:
Clubhouses
Swimming pools
Golfing greens
Landscaped garden parks
Activity courts
Children's playground
Tree-lined pavements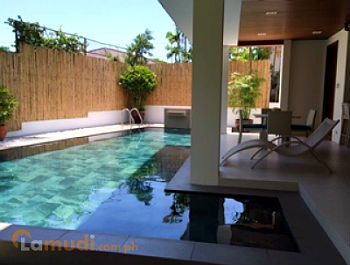 Up-front Costs of Houses for Rent
Although the monthly rent will be your highest expenditure per month, there are other costs that you must consider when you choose to rent a house. Fees don't stop after you move in and pay rent every month.
Listed below are four of the most common up-front one-off costs you need to settle before moving into your future home. Note that these may still vary depending on your tenancy contract or if you are negotiating with a real estate agent or directly with the homeowner.
Holding Fee
For those who are going through a real estate agent, you may be asked to pay a holding fee for the property you are interested in. This secures your reservation of the house for a certain period of time. The house will already be taken off the market, and no other offers are considered.
A holding fee is not an extra fee. However, it is considered part of your total move-in costs. Should you decide otherwise on the property after paying this fee, you will not be able to get it back.
Rent in Advance
Most of the time, the landlord will require you to pay a month's rent in advance. This could also be more, especially if you are unable to sufficiently prove that your income can support the monthly cost when you rent a house.
Tenancy Bond or Deposit
This is the homeowner's insurance in case of any damages to the property or missed monthly payments. The amount depends on what is agreed upon in your contract, but it is usually equal to four to eight weeks of rent. You should get this amount back after your tenancy.
Agency Fee
If you found your house through an agency, you may be charged an agency fee. This covers services, such as checking credit and reference checks, drawing up the lease agreement, handling the turnover of the house, including professional cleaning, and basic administration.
Association Fee
If your house is located inside a village or gated community, you may need to pay village association fees. This is for the use and maintenance of the facilities, such as the clubhouse, swimming pool, playground, and park. The village sticker for your vehicles may be a separate cost.
Why Rent a House and Lot in the Philippines
Renting a house and lot is one option to get well-built residences without having to pay a lot of money upfront. Renters can live in excellent residential projects that are close to institutions and establishments that provide a variety of goods, services, entertainment, and conveniences.
There are also rent-to-own residences and lots available. These are good for people who wish to buy a house but don't have the funds on hand to pay the entire price right now. Most property owners want a leasing period of at least six months to one year for people interested in renting to acquire a house and lot.
Other locations within Metro Manila where you can find houses and lots for rent include Taguig, Muntinlupa, and Parañaque. For locations outside of Metro Manila, alternative spots include Antipolo City (Rizal) Davao City (Davao del Sur), Angeles and Mabalacat (Pampanga) and Santa Rosa and Calamba (Laguna).
Work and Investment Opportunities
If you choose to live in metro areas, you will have the opportunity to explore various career opportunities in different fields as there are various business districts with a high concentration of office buildings. You can also take advantage of the heavy foot traffic and diverse population by starting a customer-driven business such as retail shops, fast food or restaurants, and service centers.
Frequently Asked Questions
Are there any houses and lots for rent with a swimming pool?
Yes, you can find a house and lot for rent with swimming pool. Some may even offer different pool types, such as kiddie, adult, lounge, and Olympic-sized lap pools.
Are there any 3-bedroom houses and lots for rent?
Perfect for medium-sized to large families, there are various 3-bedroom houses and lots for rent.
Are there any houses and lots for rent with a garage?
Yes, there are houses and lots for rent with a garage that can fit up to as much as four vehicles.