For Sale 1.2 Hectare Lot in Kennon Rd. Frontage, Camp 7, Baguio City
Camp 7, Baguio
Description
The lot is ideal for a mall/hotel or a condominium complex. Located with a 130 meter frontage along Kennon Rd., Camp 7. A 4 meter elevation from the main road. Area has fully grown pine trees and bamboos.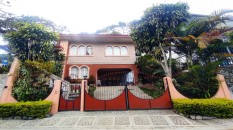 About the project
Experience an exceptional residential Subdivision lifestyle at the heart of Baguio
Camp 7 by  is a residential Subdivision in Baguio, one of the top cities in Benguet. Camp 7 provides its residents with a lifestyle of privilege that many people can only dream of.  is yet again breaking the boundaries of residential living by bringing comfort...
Similar Properties
12,443 sq.m. Commercial Lot. for sale at Camp 7-Baguio Ideal for Hotel or Condo.
Kennon Road, Camp 7, Baguio City Camp 7, Baguio
View Info
View More Listing