A Place of History, Mobility and Opportunity
The first-class municipality of Tanza in the province of Cavite is widely known as an example of a municipality run on good governance. Tanza has been the recipient of many recognitions that all attest to the competitiveness and efficiency of Tanza's local government.
This reputation continues to precede the municipality, giving rise to a congenial business environment that continues to fuel Tanza's economic growth and keeps it on track to becoming one of Cavite's most significant commercial, financial and industrial hubs. To that end, you can get the most value for your money with a lot for sale in Tanza, Cavite.
The municipality is steeped in history, for it was in Tanza where the country's first President, Emilio Aguinaldo, took his oath of office as head of the revolutionary government. It has also long been one of the vital transportation arteries of the Philippines, as it is the location of the Cavite Gateway Terminal – the first roll-on, roll-off (RORO) barge terminal in the country. All of these, and more, make Tanza one of the most unique towns of the country, a testament to its constant livability, prosperity, and progress.
Lots for sale in Tanza, Cavite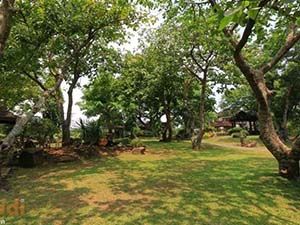 As an affordable but not too distant alternative, a residential lot for sale in Tanza, Cavite is one of the most viable in the market, with several options that can fit buyers with many types of incomes. You can also find a valuable commercial or agricultural lot for sale in Tanza, Cavite for your business or investment needs.
For an affordable residential lot for sale in Tanza, Cavite, you should consider the neighborhood of Punta I, where you can get a decent-sized lot fit for a house or rental property for as low as Php 150,000. This area is also where you can find several foreclosed lots which are great for investing in since you can buy them low and sell them high or rent them out for a steady income.
If you're in the market for a mid-priced and luxury residential lot for sale in Tanza, Cavite, then you can check out Arden Botanical Villas by Megaworld, Southcrest Hills Subdivision, Nusa Dua by Filinvest, and Pineview by Filinvest. These are secure, gated villages that come with plenty of premium amenities, such as a clubhouse, a swimming pool, sports facilities, a children's playground, and more. Depending on the size of the lot, you can expect to spend anywhere from Php 3,000,000 to Php 20,000,000 for a piece of residential land in these locations.
Commercial and agricultural lots are spread out everywhere in Tanza, but they're mostly concentrated in the areas of Sahud Ulan and Paradahan I. It's in these locations where you can find some lots as big as 100,000 square meters. Agricultural lots can also be found in Nusa Dua starting from Php 2,000,000. This community doubles as a lush sanctuary where you can nurture your own private farm.