Bria Homes Townhouse San Jose Del Monte Bulacan
Sitio Partida, Brgy. Muzon San Jose del Monte Bulacan Muzon, San Jose del Monte
Description
BRIA Homes' main goal is to address the housing problem in the country.
This is the goal that drives every single employee in the company. It is a real estate company that does not aim to earn but aims to aid its public in their pursuit of a home that they can call their own. For Bria, as a whole, the ultimate fulfillment is seeing a client happily moving-in Bria's homes.
To fulfill this goal, BRIA stands firmly in the development of its 5 core values:
1. MURA (Affordable)
Bria Homes primes itself on its affordable homes. It aspires to give average Filipino workers the chance to acquire their own high quality homes at a reasonable price. For as low as P 1, 897* per month, they can now have their dream homes. Bria's house and lot packages range from Php 460,000 to Php 1.5M while its condo units range from Php 1.5M to Php 3M.
Clients can also opt to choose the financial funding (PAG-IBIG Funding or Bank Financing) convenient for them. These funding options can help ease the load of payment for Bria's clients.
2. MABILIS (Fast Construction)
Bria Homes prides itself on its fast construction time. In every project, it uses new technologies in home building in order to reduce construction time.
Not only does Bria assure fast construction time but also high quality homes. Bria's engineers and architects ensure that Bria's homes will last through any weather.
3. MAGANDA (Pleasant Communities)
Bria Homes provides a holistic and a pleasant atmosphere in its communities. This is because its facilities such as: covered basketball courts, perimeter fences, guarded entrance, etc. makes the homeowners feel at ease and is pleasing to the eyes.
Furthermore, Bria communities provide a calm atmosphere due to the trees located all over the area, making Bria's home buyers feel close to nature.
Together with this pleasant atmosphere, Bria Homes had since promoted green living and healthy living in its communities. It had recently launched 'Project Communitree: An Adopt A Tree Program,' which aims to educate its public about the importance of a cleaner environment and 'Sa Bria Lulusog ang Pamilya,' which aims to foster the importance of proper diet to Filipino families. This is because Bria firmly believes that a healthy and a greener home leads to a happier home.
Aside from the community itself, Bria also designs eye-catching and trendy homes. Its designs are at par with modern architecture. Bria's clients have a wide-range of home options to choose from: Elena, a 22 sq. m unit on a 36 sq. m lot; Bettina, a 44 sq. m unit on a 36 sq. m lot; and Alecza, a 36 sq. m unit on a 81 sq. m lot.
Besides its house and lot packages, Bria Homes also highlights city living through Bria Condos, which offers beautiful 24 sq.m studio units.
4. MAHUSAY ANG SERBISYO (Good Service)
Bria Homes ensures that its employees provide their best service. All employees are trained to respond to customer queries immediately.
Bria's clients can rest assure that they will be given quality service and that they can attain the best possible experience while living in Bria Communities.
5. MALAPIT SA LAHAT (Within Close Proximity)
Bria communities are strategically placed in locations that will bring comfort to the clients' lifestyle.
All Bria communities nationwide are within close proximity of places of interest such as: places of worship, hospitals, schools, and commercial establishments. They are also near major roads and highways.
Bria Homes San Jose del Monte is a 6.2 hectare project located at Barangay Muzon, San Jose Del Monte, Bulacan. It is the ideal community for interested homeowners from Bulacan who want to own an affordable home amidst a peaceful community. It is the best house and lot for sale for as low as 9,000 Php per month
Details
Subdivision name
Bria Homes San Jose Del Monte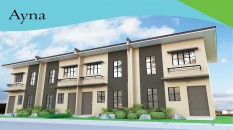 About the project
Experience an exceptional House and Lot lifestyle at the heart of
Bria Homes San Jose Del Monte is a House and Lot in San Jose del Monte, one of the top cities in Bulacan. Bria Homes San Jose Del Monte provides its residents with a lifestyle of privilege that many people can only dream of. Bria Homes San Jose Del Monte is yet again breaking the b...
FIND PROPERTIES IN OTHER LOCATIONS