A Popular Province Outside the Metro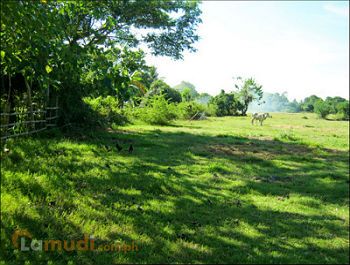 A widely recognized tourist destination situated within a reasonable distance of Metro Manila, the province of Batangas is the home of some of the most notable beaches and diving locations in Luzon and the Philippines overall. These include areas such as Anilao, which is found in the municipality of Mabini, and Punta Fuego, which is in the municipality of Nasugbu.
Along with a thriving tourism industry fueled by some of the best nature has to offer, the province has also continued to be a highly desired residential location because of its convenient distance to the Metro. It has been one of the longest established populations in the Philippines, and it has been thriving even before the country's initial colonization by the Spanish. Its extensive history is evidenced in locations like the Taal Heritage Town.
From residential houses to commercial properties, there's a lot for sale in Batangas to accommodate your every need.
A Province with a Unique Landscape
The province's landscape is a vast combination of plains, beaches, and mountains. It is also the location of renowned Taal Lake and Volcano. Unknown to many, the province also includes a number of islands, such as Tingloy and Isla Verde. With its extensive and diverse scenery, a number of options can be seen on the property market for those looking for a Batangas lot for sale.
While lands for sale are usually properties situated in developed areas, one can expect the ones in the province to be quite unique. You can find a lot for sale in Batangas that's still undeveloped, untouched, and fertile in their natural condition. These can be perfect for farming. Some may even feature a distinct amount of flora and fauna, and even some wildlife.
Lot for Sale: Batangas Is Your Next Purchase
Whether it for residential purposes, a beach-front property, for commercial development, or a farm lot for sale in Batangas, one would be hard-pressed not to find a suitable plot to invest in. Comprised of 31 municipalities and three major cities, the diversity in landscape and locales in a particular area makes the province an interesting place full of potential.
The average size of a lot for sale in Batangas is usually 250 square meters. For a lot for sale in Barangay Sta. Ana in Calatagan, it is priced at just PHP 1.675 million. Another popular area to look for a lot for sale in Batangas is in the province's capital, Batangas City. It is situated in Residenza Milano, which is found in the city's San Isidro area. It is 100 square meters, and is currently priced at just PHP 456,237. For a pricier option, there's a 51,283 square meter beachfront lot in Calatagan. Priced at PHP 76.925 million, this property is perfect to build a resort on. Other popular places for residential or commercial development are in the cities of Lipa and Talisay.
Frequently Asked Questions
Is there are a foreclosed lot for sale in Batangas?
Yes, you can find about 472 foreclosed lots for sale in Batangas. These lots are priced below market value, so you can definitely yield a higher return on your investment.
Is there a cheap lot for sale in Batangas below 2.5M?
Yes, there are about 503 cheap lots for sale in Batangas below 2.5M. Whatever your need is for a lot in Batangas, you can get one for a budget-friendly price.
Is there a beach lot for sale in Batangas?
Yes, you can find over 286 beach lots for sale in Batangas. Since Batangas is a popular nearby beach getaway, you can use these beach lots to develop a resort or a vacation home. Either property type is worthwhile and makes good use of the land here.