27 Sqm Studio Condo Unit For Sale At Azure North In San Fernando, Pampanga
San Jose, San Fernando
Description
About Azure North
MASTERPLAN
The Resort Residences at AZURE NORTH is a new, cutting-edge, mixed-use development in San Fernando, Pampanga, Philippines that brings the experience of beachfront living to the heart of the city.
The design concept brings forth a beach-orientated development that covers 8 hectares to the center of a metropolis, and continues the line of development of another one of Century Properties' celebrated developments – the Azure Urban Resort Residences located at Bicutan, Parañaque.
We have drawn upon the essence of the beach, and then designed an innovative development that brings to the people of Pampanga a new residential experience that balances affordable living with resort style delight.
INSPIRATION
While Azure's architecture was inspired by Miami's white ocean-swept aesthetic, AZURE NORTH will be more organic, lush, and sprawling, with design inspiration coming from the atolls and sentinel-like rocks that jut out from the ocean in some of the world's enchanting destinations like Koh Samui, the Maldives and, of course, Palawan.
Azure North is a condo project developed by Century Properties, Azure North has 20 floors Units range from studio to 2 bedroom. Azure North at San Fernando, Pampanga has the following facilities: air conditioning, cctv, fitness, garden, parking, playground, security, swimming pool and wi fi.
Features
 Air Conditioning
 CCTV
 Fitness
 Garden
 Parking
 Playground
 Security
 Swimming Pool
 Wi Fi
Our Business
Century Properties Group is one of the leading real estate companies in the Philippines with a proven track record of delivering projects with innovative real estate concepts. Our company is primarily engaged in the development, marketing, and sale of mid- and high-rise condominiums, retail leasing and property management, and is in the process of diversifying into two allied real estate segments, such as leisure and tourism and horizontal economic housing, to further strengthen our portfolio.
Our company has five wholly-owned subsidiaries namely Century City Development Corporation, Century Limitless Corporation, Century Communities Corporation, Century Properties Management and Century Properties Hotel and Leisure Inc. Through these subsidiaries, Century develops, markets and sells residential, office, medical and retail properties in the Philippines, as well as manages residential and commercial properties in the Philippines.
Starting 2010, the Company has completed 6 buildings totaling 5,009 units and 354,313 GFA up to December 31, 2014. This is in addition to the 19 buildings totaling 3,768 units and 518,634 GFA that were completed prior to 2010 by the founding principals' prior development companies, the Meridien group of companies. The Company also completed the Century City Mall in 2013, its initial foray into retail development.
Currently, our company is developing six master-planned communities that is expected to have 42 condominiums and commercial buildings condominium and commercial units and 934 single detached homes, with a total expected GFA of 1,934,561 sq.m.
Our land bank for future development consists of properties in Quezon City, Pampanga and Batangas that cover a site area of 2,000,970 sqm.
Through Century Properties Management, Inc. (CPMI), we also engage in a wide range of property management services, from facilities management and auction services, to lease and secondary sales. Through CPMI, our company endeavors to ensure the properties it manages maintain and improve their asset value, and are safe and secure. CPMI currently manages 51 projects with 2.7 million square meters of managed properties and 82% of the projects CPMI manages were developed by third-parties.
Century's aim is to enhance the overall quality of life for Filipinos and foreign nationals by providing distinctive, high-quality and attainable properties in the Philippines.
Details
Condominium Name
Azure North
Tower Name/Number
Bali and Monaco
Available from
05/08/2021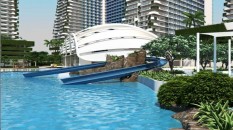 About the project
Make everyday feel like a vacation with Azure North
Azure North is your dream life
Located in San Fernando, Pampanga, Azure North by Century Properties is a mixed-use development that makes it possible to enjoy beachfront living while living right smack in the middle of the city. The tropical-designed project is eight hectares big, and is l...
Amenities
Broadband internet available
FIND PROPERTIES IN OTHER LOCATIONS